Innsbruck Austria
We were in Munich (Munchen) Germany and we headed due south to Innsbruck, Austria. Mountain views dominated all along the road from Bavaria to the Austrian Tyrol. (Tyrol is a "state" located in western Austria). Innsbruck, (bruck means bridge) situated on the Inns river, is the old provincial capital of Tyrol. It lies in the wide Inn valley at the intersection of two important traffic routes, between Germany and Italy and between Vienna and Switzerland. From all over the city there are vistas of the Alps which ring this university town. The Olympic winter games were held in Innsbruck in 1964 and 1976. They also hosted the 1988 Winter Paralympics and the 2012 first Winter Youth Olympics.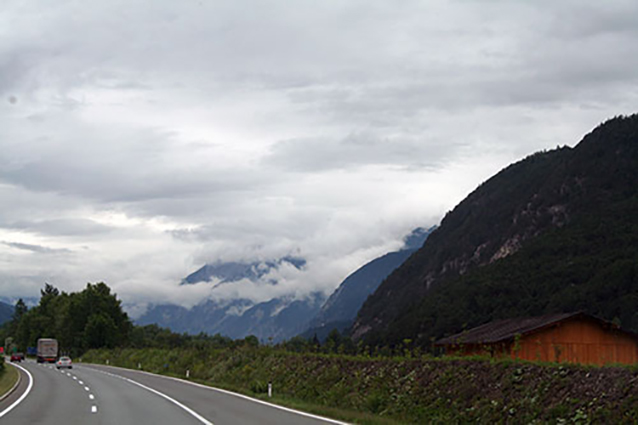 Amidst the charming Old Town Renaissance, Baroque and Rococo buildings, you will find Innsbruck's greatest tourist attraction and its most characteristic landmark, The Golden Roof. Built in 1500 for Maximilian I, Holy Roman Emperor, it is decorated with over 2,675 gold-plated copper tiles. The reliefs on the balcony show coats of arms, symbols and other figures in Maximilian I's life. The Maximilian museum is also located in the building.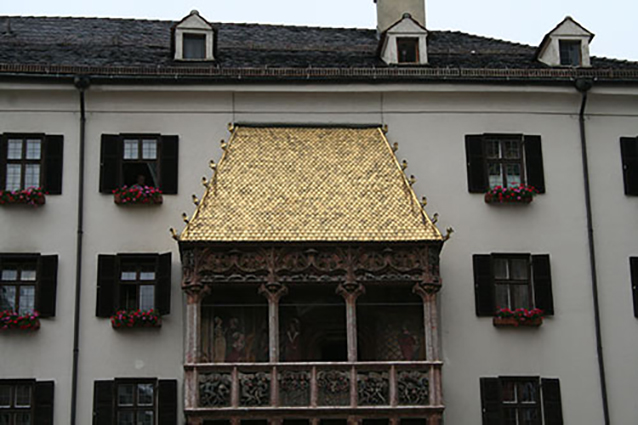 The Golden Roof overlooks the Herzog-Friedrich-Strasse or the main street of the Old Town.
Since 2003, it has housed the International Alpine Conventions' Office. The AC is a coalition of eight Alpine Countries committed to sustainable development in the European Alps.
Innsbruck's Old Town is a small area of sturdy medieval houses, many attractively painted in pastel colors and supported by sloping earthquake buttresses. The main thoroughfare of the Old Town is Herzog-Friedrich-Strasse, which eventually opens out into a central plaza lined with arcades.
The classic Austrian hybrid of Gothic and Baroque, exudes sophistication and charm throughout Old Town.
Many of the stores sell a variety of tempting baked goods and chocolates. We bought a box of Mozart Kugeln. The hexagonal box featured a portrait of Mozart and contained gold foil wrapped chocolates, filled with hazelnut nougat and pistachio marzipan praline centers. The chocolates were very tasty.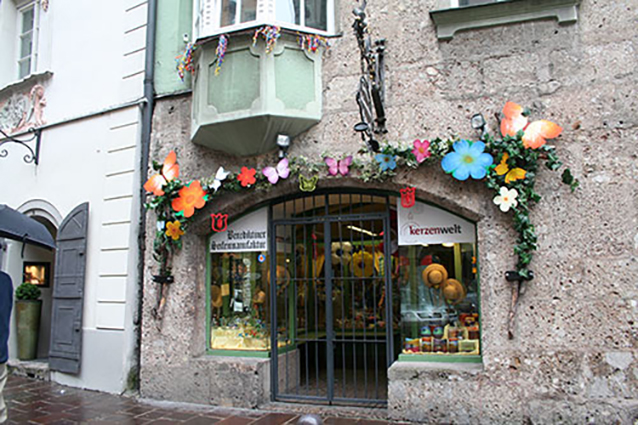 Austria is home to the Swarovski cut-crystal empire. We stopped at the Swarovski "World of Crystals" which is the largest Swarovski crystal shop in the world. While this was certainly not one of the high points of our trip, it was interesting to see all the sparkling creations and imaginative figurines from their extensive crystal collection.
In 1925 Swarovski started experimenting with glass reflecting elements. It took him 25 years to start manufacturing jewelry stones. In 1956, they started coating their stones with a thin layer of metal to enhance their brilliance. In 1989 they announced their Haute Couture accessories. The company grew to boast 13,000 employees and is still a privately owned family business.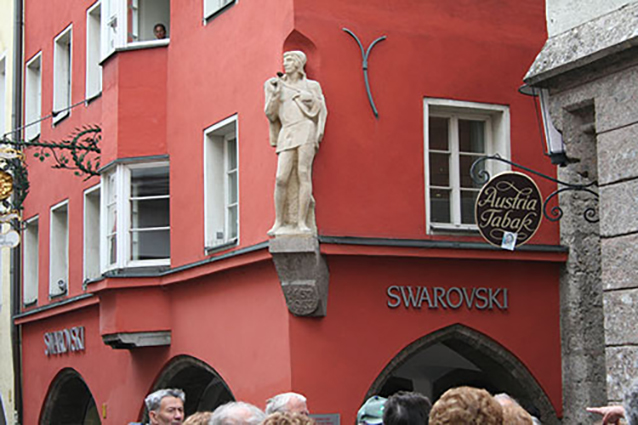 Innsbruck Austria Fountain